PROTEA BIOPHARMA LAUNCHES THE FIRST « BEDSIDE TEST » FOR MEASURING ABNORMAL METABOLITES IN CFS-ME : THE NEUROTOXIC METABOLITE TEST
Assays previously developed by PROTEA biopharma are commercialized on a fee-per-service basis by R.E.D Laboratories (www.redlabs.com). The Neurotoxic Metabolite Test is a patented, simple urine test based on our most recent research achievements. This new assay will be available as point-of-care test; it will be commercialized first as a research test, through this website, and then through pharmacies or health-care centers. This will allow self-testing of the patients and easy follow-up on therapy.
The test will be commercialized at a price of 45€ (VAT and shipping are included). For ordering, please go to the Ordering Test section. To get more information, please view our Frequently Asked Questions section.
An overview of the test procedure is provided below:
1. Collect urine sample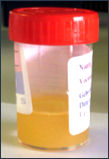 2. Open the tube containing the test reagent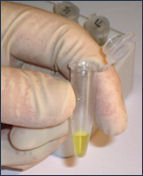 3. Using the pipet provided with the kit, add a small volume of urine to the test reagent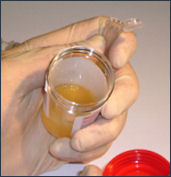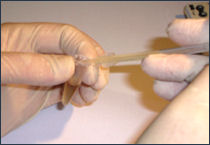 4. Mix by gently shaking the tube and wait for three minutes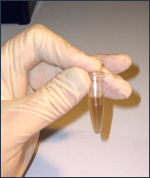 5. Observe color changes

For negative samples, there is no change in color (first two tubes). Third and fourth tubes correspond to moderate positives. Last two tubes are strong positives.